masc4masc (2021)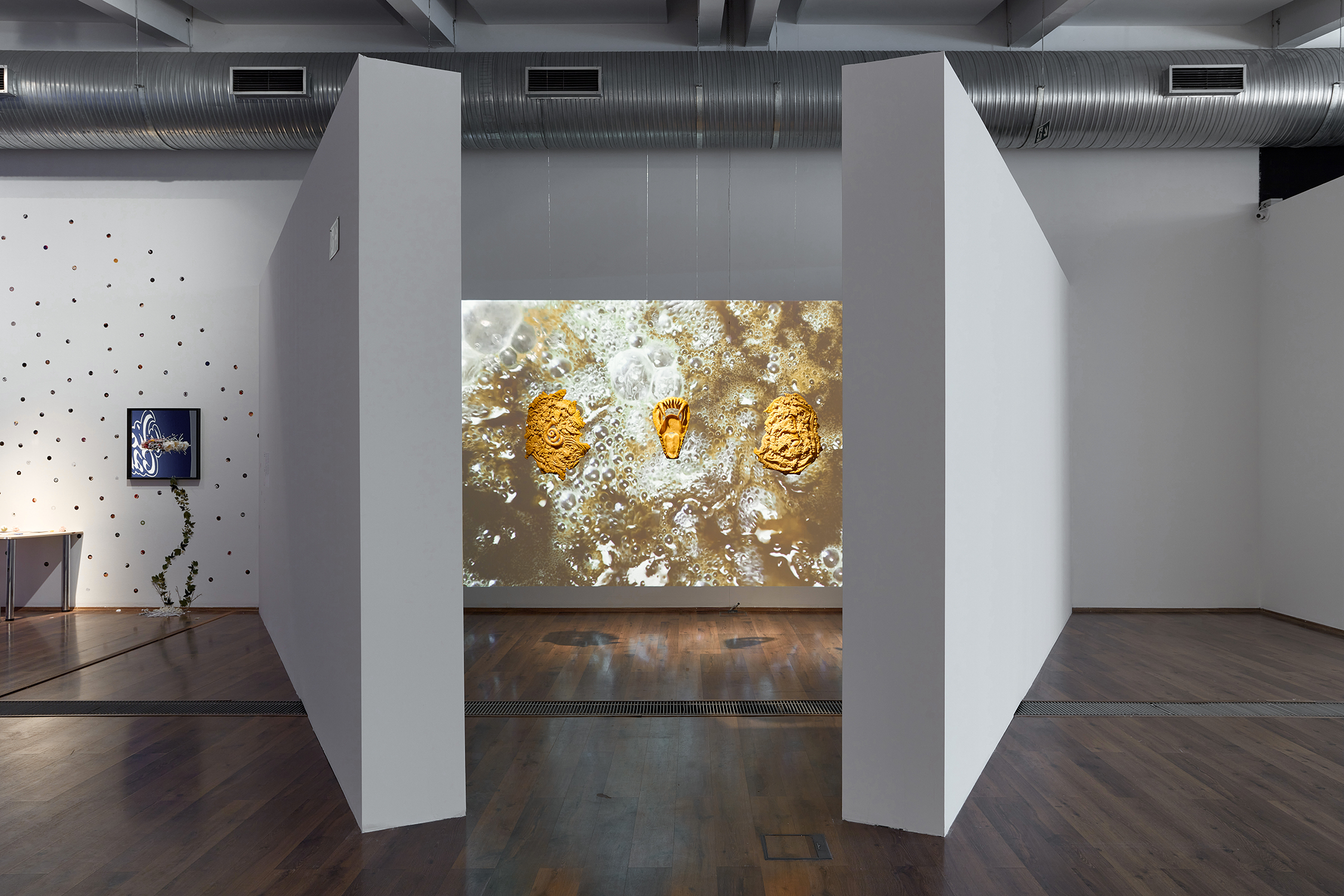 Exhibited in the group exhibition #IFeelSeen curated by Vanda Sárai, on view at Modem Centre for Modern and Contemporary Arts, Debrecen, Hungary

Beeswax, glass
60x43 cm; 60x47 cm; 54x46 cm
video
2'11''

EN

Masc4masc, i.e. masculine for masculine – this is how countless gay men who try to meet other men online signal that they look heteronormative, and they're only interested in dating men similar to them. This phrase is problematic in many aspects as members of a suppressed minority call each other and themselves to account for following those gender roles that are socially dominant, and designed for heterosexuality. Besides fetishizing hetero appearance, this expectation humiliates both people with feminine appearance or those who divert from masculine behaviour in any form. For those who are not equipped for harassment coming from a milieu thought to be safe, this can cause serious mental problems. This internalized homophobia and sexism is one of the results of the oppressing, heteronormative society that attacks the LGBTQ community, which is already in a difficult position, from the inside.

In his symbolic installation, consisting of three beeswax statues and a video, Gideon Horváth approaches this phenomenon on an instinctive level. Horváth has been experimenting with beeswax for years, he thinks of this material as queer and ecological. In the statues, the ambivalent feelings of aggression, tension, innocence, calmness and vulnerability appear at the same time. The kingsnake and the horse, which traditionally symbolize masculinity, here appear as fetuses, floating in an "oceanic feeling", protected from the outside world. Sándor Ferenczi, the founder of the Hungarian psychoanalytical school took the phrase "oceanic feeling" from Freud that he used for describing the floating state in the womb. At that time, there are no boundaries between our bodies and the milieu surround us, we form a whole with the universe. We can have similar, transcendental experiences after our birth when we recognize ourselves as a part of a greater entity.

Gideon Horváth's work draws a parallel between the definition of "oceanic feeling" with how we lose our body image and personality in the shapeless labyrinths of online applications. He claims that in these situations, we melt into a whole where dangerous expectations leading astray and possibilities full of pleasures bloom simultaneously.




HUN

Masc4masc, vagyis masculine for masculine, azaz férfias férfiasat – így jelzi számtalan online ismerkedő, meleg férfi azt, hogy ők maguk heteronormatív megjelenésűek és csakis hasonló férfiak érdeklik őket. A frázis sok szinten problémás, hiszen egy elnyomott kisebbség tagjai a társadalomban domináns heteroszexuális rendre szabott nemi szerepeket kérik számon egymáson és saját magukon egyaránt. A hetero megjelenés fetisizálása mellett ez az elvárás a nőies megjelenésű, illetve a férfiasnak vélt viselkedéstől bármilyen szinten eltérő személyeket együttesen megalázza. Azoknál, akik nincsenek felvértezve a biztonságosnak hitt közegen belülről érkező bántalmazásra, ez sokszor akár komoly mentális problémákat okozhat. Ez az internalizált homofóbia és szexizmus az elnyomó heteronormatív társadalom egyik olyan hatása, amely az eleve nehéz helyzetben létező LMBTQI-közeget belülről támadja.

Horváth Gideon a jelenséget zsigeri szinten közelíti meg három viaszszoborból és egy videóból álló szimbolikus installációjában. Horváth évek óta foglalkozik a méhviasszal, amelyre queer és ökológiai anyagként tekint. A szobrokban az agresszió, a feszültség, az ártatlanság, a nyugalom és a törékenység ellentmondásos érzetei egyszerre jelennek meg. A hagyományosan férfiasságot szimbolizáló királysikló és ló itt magzatként, "óceáni érzésben" lebegnek a külső világtól védve. Az "óceáni érzés" kifejezést Ferenczi Sándor, a magyar pszichoanalitikai iskola megteremtője Freudtól emelte át, amellyel az anyaméhben lebegés állapotát írta le. Ekkor még nincsenek határok a saját testünk és a minket körülvevő közeg között, a világmindenséggel egységet alkotunk. Hasonló transzcendens élmények születésünk után is érhetnek minket, mikor egy nagyobb egység részeként ismerünk magunkra.

Horváth Gideon munkája az óceáni érzés fogalmát állítja párhuzamba azzal, ahogy testképünket és személyiségünket veszítjük el az online applikációk formátlan útvesztőiben. Állítása szerint ekkor egy olyan egészbe olvadunk bele, ahol egyszerre burjánzanak a veszélyes, tévutakra vezető elvárások és gyönyörökkel teli lehetőségek.






photos: Dávid Bíró