DEVIATION FINDS A WAY (2020)


Stages of embryonic development of bearded dragon

/ Szakállas agáma embrionális fejlődési szakaszai


Female koala's reproductive system and lower jaw with laryngeal vocal folds

/ Nőstény koala nemi szervrendszer, alsó állkapocs gégei hangszálakkal


Leopard slugs mating, hermaphrodite reproductive system and eggs

/ Leopárd meztelencsigák párzása, hermafrodita nemiszerv és tojások


Unstable State of Things - group exhibition at Glassyard Gallery, Budapest
2020. 08. 12. – 10. 30.

ENG:
Gideon Horváth's series examines the often excluded queer aspects of nature with three straightforward examples. The works question the binary, heteronormative way we think of what is natural and invite us to leave the anthropocentric fantasy of nature behind. The both abstracted and anatomically conscious objects are made from beeswax, a material that the artist considers queer as well. He argues that it is uncanny, highly sensitive, yet it has a chemically very stable structure so it is resilient. The Deviation finds a way series aims to present nature, through the tiny fraction of three species, as a wild, strange, sensual and unpredictable system that cannot be rationalised.

Female koalas kept in captivity are observed to become homosexual in absence of males. They also imitate the mating below of the males with the help of an extra pair of vocal folds which is a unique organ to these species. They can produce a pitch 20 times lower than what would be expected for an animal of its size.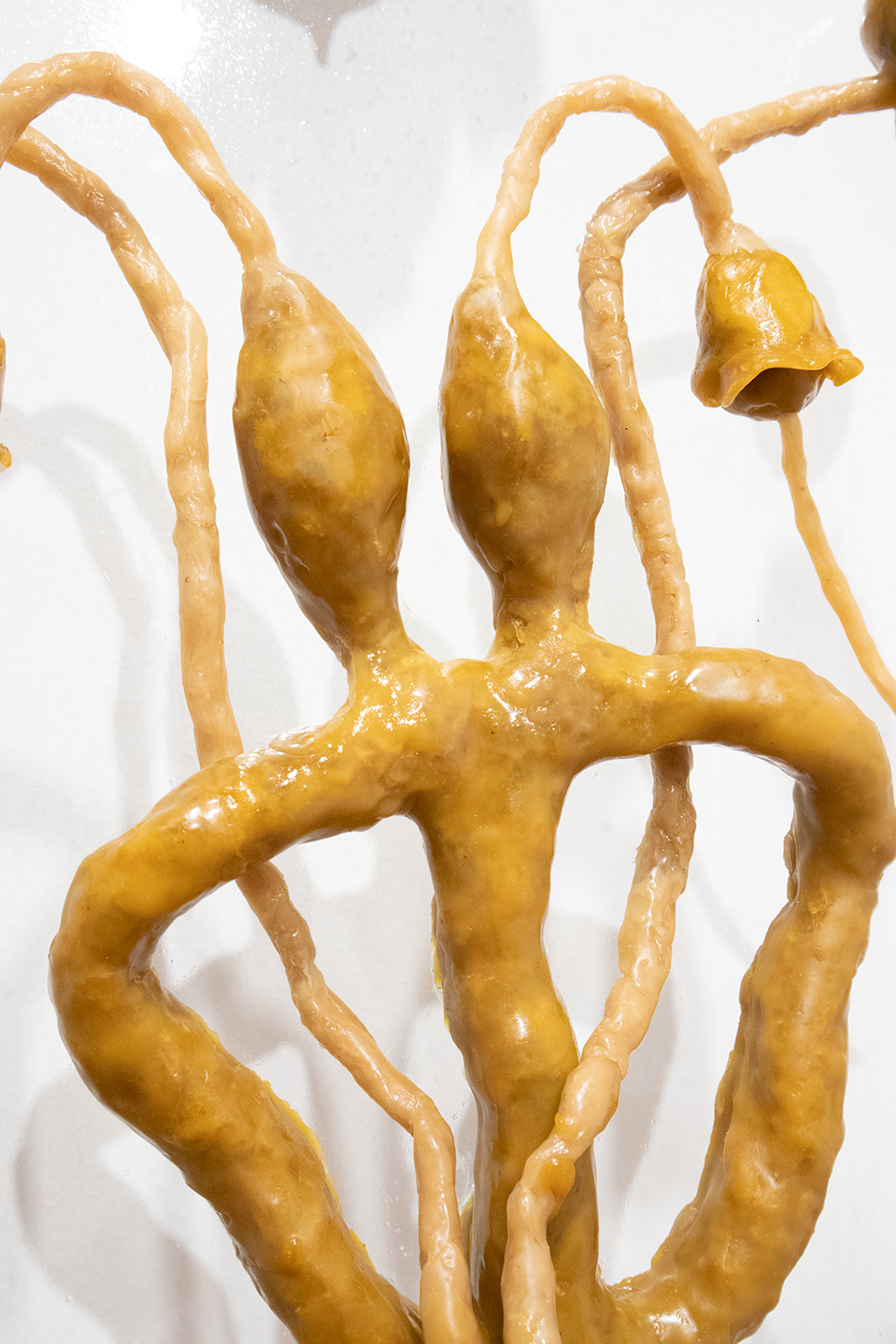 Long ongoing researches have documented the sex change of bearded dragons in their embryonic development. Scientists have found out that these reptiles are rapidly evolving due to climate change. While still inside the egg, they change their sex from male to female in order of the survival of their species.

Leopard slugs are hermaphrodites, they have both female and male reproductive organs. When mating they inseminate each others eggs, but in lack of a partner they can perform this alone, to themselves as well. During the impressive ritual they hang upside down from a string of mucus and entangle their bodies and their penises that are the same length, before laying up to 200 eggs.


HUN:

Horváth Gideon sorozata a természet gyakran meg nem írt queer jelenségeire hívja fel a figyelmet három kiragadott példa segítségével. A munkákat azok a queer-ökológiai gondolatok inspirálták, amelyek megkérdőjelezik azt a dualista, heteronormatív gondolkodásmódot, ami gyakran meghatározza, mit tartunk természetesnek. A művész magát a tárgyak anyagát, a méhviaszt is queer anyagként értelmezi, hiszen az változékony, érzékeny, ugyanakkor kémiailag nagyon stabil struktúrájú, tehát ellenálló. A Deviation finds a way sorozat arra ösztönöz minket, hogy magunk mögött hagyjuk a természetről alkotott antropocentrikus fantáziánkat és azt inkább egy vad, furcsa, érzéki és kiszámíthatatlan rendszerként lássuk, amelyet nem lehet racionalizálni. A deviáció utat tör magának.

A fogságban tartott nőstény koalák gyakran folytatnak homoszexuális tevékenységet egymás között. Sőt, a hímek párzási kiáltásait is utánozzák, a csak koalákra jellemző gégei hangszálaik segítségével. Ezekkel húszszor olyan mély hangot képesek kiadni, mint az a testméretűkből következne.

Régóta tartó kutatások dokumentálják a szakállas agámák embrionális nemváltoztatását. Tudósok azt figyelték meg, hogy a klímaváltozás hatására a hüllők jelentősen gyorsuló evolúciónak indultak. Még a tojásban képesek hímről nőstényre változtatni nemüket, fajuk fenntartásának érdekében.


A leopárd meztelencsigák hermafroditák, mindkét nemhez tartozó nemiszervekkel rendelkeznek, egy testben. Párzás közben egymást termékenyítik meg, de partner híján saját tojásaikkal is meg tudják ezt tenni. A figyelemfelkeltő együttlét közben fejjel lefelé lógnak egy nyálkaszálon, összefonják testüket illetve az azzal megegyező hosszuságú péniszüket, majd akár 200 tojást is rakhatnak egyenként.